Looking for the Perfect Religious Gifts for Your Groomsmen?
Posted by AMIT SUTHAR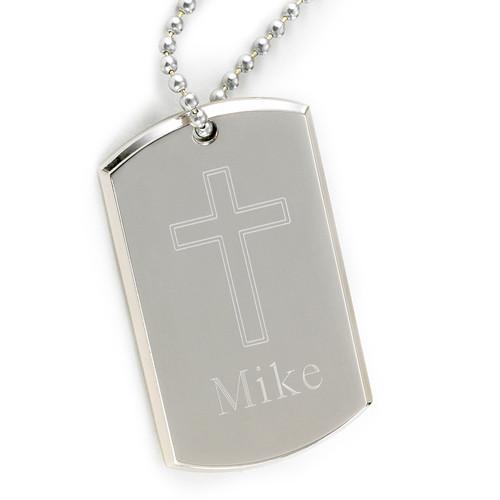 For Christian grooms and their groomsmen, giving religious gifts as a thank you for their participation in your wedding is a wonderful way to celebrate your shared faith and your friendship. When you give personalized Christian groomsmen gifts to the guys in the wedding party, the gesture is even more meaningful. Here are five of our favorite gifts of faith for groomsmen:
Large Inspirational Dog Tag with Engraved Cross. Inspired by the classic dog tag, this nickel-plated silver-toned necklace has a contemporary look with a laser-engraved cross on its 2-inch by 1-1/16-inch pendant. A ball chain is included, so it's ready to wear right away. Beneath the cross, we can add up to 10 characters of personalization at no extra charge.
Small Inspirational Dog Tag with Engraved Cross. If you love the modern look of the last necklace but know the guys in your wedding party would prefer a smaller necklace, this is the perfect solution! You get the same modern cross engraving and 10-character personalization on a pendant that measures 1-1/2 inches by 3/4 inch.
Silver Weave Cross Necklace. Inspired by Gothic designs, this cross pendant necklace is the perfect mix of old and new and sure to appeal to Christian groomsmen. The pendant is crafted out of stainless steel and measures 1-3/4 inch by 1-3/8 inch by 1/8-inch in size. On the back, we can engrave the groomsman's name in up to 8 characters. The necklace comes with an adjustable ball chain.
Classic Cross Necklace. With the shape of the Celtic cross and a highly polished finish, this cross necklace shows off the handsome silvery gleam of stainless steel. The emphasis of this 1-1/4-inch by 3/4-inch by 1/8-inch pendant is on the shape with the personalized three initial personalized engraving serving as a stylish finishing touch. The necklace comes with a ball chain.
Inspirational Pocket Watch with Engraved Cross. This pocket watch is the perfect Christian groomsmen gift for guys who are into vintage style or steampunk. The gift includes a working quartz movement pocket watch in your choice of four finishes and a 14-inch removable chain to match. The case of the pocket watch is engraved with a simple stick cross, and we can add up to 10 characters of personalization beneath it.
At Groomstand, we have a number of other religious gifts for groomsmen that are waiting to be discovered. Explore our collection now and discover all of the options.